Sudo with Touch ID on the macOS Terminal
Motivation
I am lazy. Need I say more?
Listen, this is not a major thing, but I use sudo extensively. Therefore typing my password over and over again gets tedious at some point.
Lucky for me there is a solution…
Touch ID as an authentication method for sudo was at least envisioned by apple as it seems. However it is deactivated by default.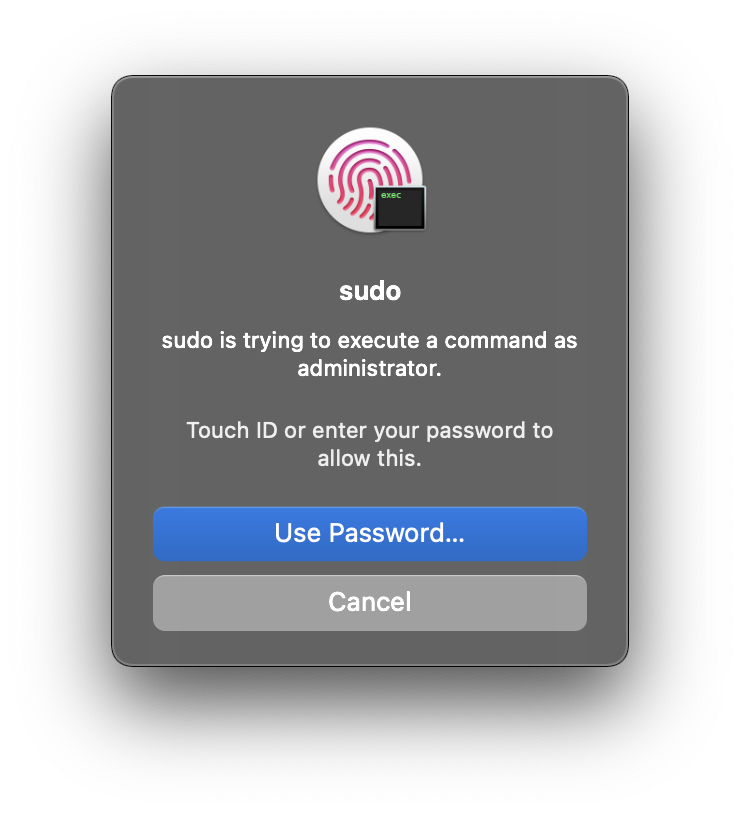 How
The file /etc/pam.d/sudo contains the authentication methods and rule sets for sudo on the command line.
All that remains is adding auth sufficient pam_tid.so at the beginning of the file. You will require sudo permissions to be able to write to the file.
# sudo: auth account password session


auth       sufficient     pam_tid.so 

# new line




auth       required       pam_opendirectory.so


account    required       pam_permit.so


password   required       pam_deny.so


session    required       pam_permit.so

Bonus: This works for all of the sudo prompts in my Emacs as well.
Be advised:
You are messing with permission escalation here. Do be aware of the risks involved here. Read up if necessary.
iTerm2
This works with all the Terminal emulators, that I have used so far (Terminal, Kitty, Alacritty,…) out of the box.
However iTerm2 seems to be a diva in that regard. Meaning, that it needs more settings to go along. This is illustrated in this GitLab issue.
Go to Preferences > Advanced
Search for Allow sessions to survive after logging out and back in
Select "No" in the drop-down.