My first Emacs package on Melpa
Why?
I am greatly fond of Emacs as a tool, as evident by this post or this ones. In fact it is my favorite application/utility on any computer – by far.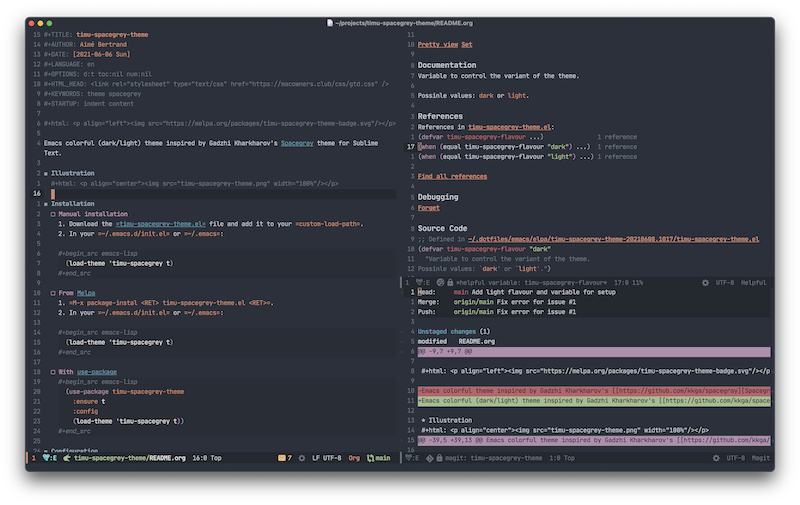 Because of this I want to contribute to the available packages. Now I am no wiz when it comes to programming, but I am tying to learn.
So where to start?
Make a package

In my case it is a theme. Themes are easy to create. Plus I used quite a bit of boilerplate from other packages (built-in themes, doom themes, etc). Most of the work was bringing the code together and of course choosing colors, that I find pleasant and wholesome.

Deploy to a public Repository
What?
The theme that I came up with is called timu-spacegrey-theme. A colorful theme with orange as the leading color with a dark and a light flavour. It is inspired by Gadzhi Kharkharov's Spacegray theme for Sublime Text.
As mentioned above themes are reasonably easy to create and deploy as a package. But this was not the only reason to create a theme as my first package.
I wanted to scratch my itch as well. I have been trying out a whole host of themes, but none pleased me to the fullest. Granted mine is still a work in progress, but I can fix stuff myself and contribute at the same time.
The theme has been online for a few days now and it seams, that quite a few people like it. At least judging by the downloads.
well this is it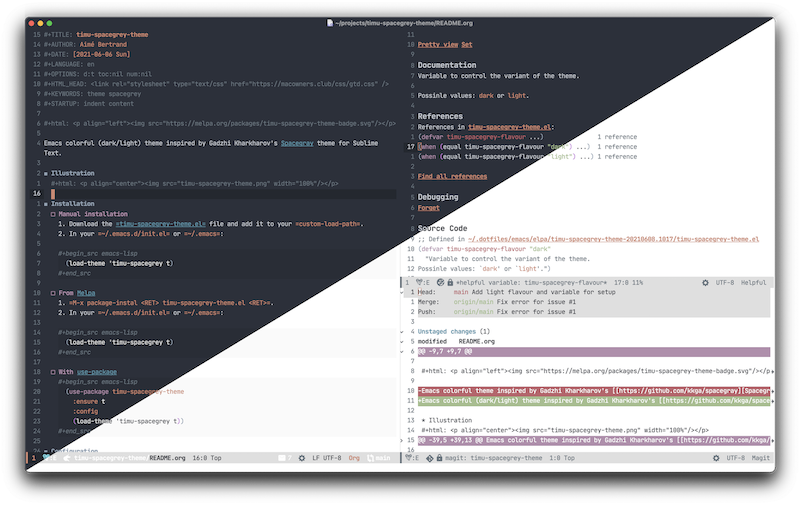 Installation
Manual installation
Download the timu-spacegrey-theme.el file and add it to your custom-load-path.
In your ~/.emacs.d/init.el or ~/.emacs:
(

load-theme 

'timu-spacegrey

 

t

)



M-x package-instal <RET> timu-spacegrey-theme.el <RET>.
In your ~/.emacs.d/init.el or ~/.emacs:
(

load-theme 

'timu-spacegrey

 

t

)



(

use-package

 timu-spacegrey-theme
  

:ensure

 

t


  

:config


  

(

load-theme 

'timu-spacegrey

 

t

))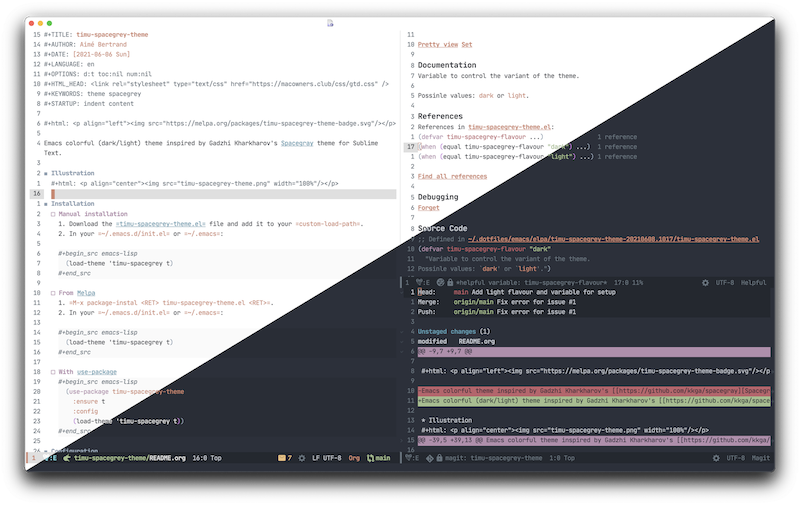 Configuration
Light and dark flavour
There is a light version included as well. By default the theme is dark. To setup the light flavour add the following to your ~/.emacs.d/init.el or ~/.emacs:
(

setq

 timu-spacegrey-flavour 

"light"

)



Auto switching the flavour on macOS
You can switch the light and dark modes on macOS with the system automatically as well. Unfortunately I don't know how this would work on the many Linux Distros.
(

add-hook 

'ns-system-appearance-change-functions


          

#'

(

lambda

 

(

appearance

)


              

(

mapc

 

#'

disable-theme custom-enabled-themes

)


              

(

pcase

 appearance
                

(

'light

 

(

progn

 

(

setq

 timu-spacegrey-flavour 

"light"

)


                               

;; hack for the titlebar text:


                               

(

add-to-list 

'default-frame-alist


                                            

'

(

ns-appearance 

.

 dark

))


                               

(

load-theme 

'timu-spacegrey

 

t

)))


                

(

'dark

 

(

progn

 

(

setq

 timu-spacegrey-flavour 

"dark"

)


                              

(

load-theme 

'timu-spacegrey

 

t

))))))